Should You Lose Your Passport If You Get Busted for Weed? UK Residents Fight New Proposal!
July 27, 2022
You should give a second thought to smoking a joint while traveling in the U.K these times. Individuals in Wales and England could be vulnerable to harsher punishments, including the risk of losing their passports or driver's licenses under the new cannabis regulations that have been proposed recently. However, a number of people are of the belief that it is a somewhat obvious attack on the middle class.
The Home Office released the White Paper document in July under the heading "Swift, Certain, Tough New repercussions for drug possession." People arrested for crimes that are drug-related could be in danger of losing their driver's licenses and passports as the U.K. government increases its efforts to battle the plague of substance abuse in society. The government department in charge of security, immigration, and law and order is the Home Office.
Defaulters in Wales and England would now be subject to a three-strikes style system. This system splits up offenses into three levels. According to reports from The Telegraph, the new system is going to affect the middle class in the nation the most, resulting in prohibitions from nightclubs over random drug sentences. And that is only, to begin with: losing a passport and a driver's license could happen next.
AN ATTACK ON THE MIDDLE CLASS
Prime minister Boris Johnson has stated that middle-class cannabis users will have no place to hide, and individuals caught with drugs will be prompted to attend drug awareness courses (equivalent to speed awareness courses) and could be subject to greater fines, along with the risk of losing the right to travel or even drive.
The prime minister stated that they needed to explore new ways of punishing these people. Things that will truly impede their lives, he added. Therefore, we will consider confiscating their passports and licenses. everything is on the table. The prime minister added that these were new methods of punishing people who take recreational drugs just like cannabis, with the ultimate goal of shutting down both the demand and supply of illicit drugs in the United Kingdom.
THE THREE STRIKES PUNISHMENT SYSTEM
The three-strikes system, widely put, is a sentencing structure created to discourage crime at a higher pace. Still, it is criticized by advocacy groups.
On a first strike, any person caught with illicit drugs would have to pay for a drug awareness course where their attendance is mandatory, and if they refuse to comply, they would be given a higher fixed penalty notice or be in danger of prosecution.
Second-time defaulters would be warned, be ordered to attend an extra drug awareness course, and be subject to mandatory, random drug testing for a timeframe of up to ninety days.
Individuals who are being charged for the third time are likely to be arrested and, if sentenced as part of a civil court ruling, could be facing an exclusion order prohibiting them from nightclubs and other entertainment centers, and they could go on to have their drivers' licenses or passports taken from them.
The current laws for dealing with drug users consist of endless fines and up to seven years of jail time. In the new White Paper, Swift, Certain, Tough, the new repercussion for possessing drugs, also proposes that drug users are made to wear tags.
MEMBERS OF THE PARLIAMENT IN AGREEMENT
The White Paper elucidates that drugs cause a whole lot of harm to young people and children, having an influence on their health and capacity to learn and work. The White Paper does not distinguish between cannabis and other drugs.
The misuse of drugs places people's lives at risk, fuels criminality and severe and violent crime, and also leads to the hideous exploitation of vulnerable and young people, Home Secretary Priti Patel said. He added that they were coming down hard on the use of drugs with harsher consequences for the acclaimed recreational drug users who will meet the consequences of their acts through sanctions, including fines and requirements to attend rehabilitation courses, while drug offenders, as previously mentioned, could see their passports and driver's license seized from them.
The MP further stated that in agreement with the strategy to battle the hazardous repercussions of drugs, they aim to turn back the growing trend of drug use in society to guard the public against the violence and damage of drug misuse.
The new legislation will later go through a 12-week discussion period, which will take place about seven months after the government released its 10-year drug plan.
THE RESEARCH SAYS…
Some researchers discovered that between 2011 to 2020, there was a seventy-two percent increase in deaths relating to drug poisoning and an increase of about 2% in "regular drug users," who was described as having taken any substance more than once in the last year, according to the most recent Crime Survey for Wales and England.
It is nearly unbelievable for a nation that normally consumes cannabis. Doctors in the private sector who are on the specialist list of the General Medical Council can legally prescribe marijuana-infused products for medical use.
According to a survey from the Association for the Cannabinoid Industry (ACI), a group in the cannabis industry, one in five British adults have indulged in CBD oil or flower, and 58% of the respondents think it has overall health benefits.The United Kingdom government even became a joint owner of a CBD company after its emergency loan system was altered.
BOTTOM LINE
So, it seems it has now become a problem to smoke weed or take cannabis-infused products in the United Kingdom, or at least to be caught with it… for the third time (lol). Jokes apart, the new legislation with the three-strike system is a severe rule; the law was passed to tackle the rapid increase in the use of cannabis and the adverse effects that follow its use. To prove how serious this new law will be, it goes deeper than just fines, as you risk losing even your passport and I'm some other cases, even face jail time.
MORE ON THE UK CANNABIS RULES, READ THESE…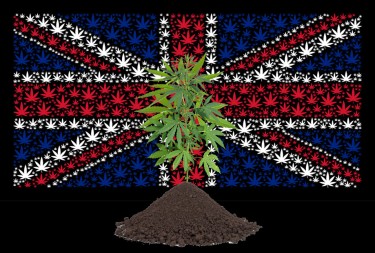 GROWING WEED IN THE UK – HOW DO YOU GET A GROW LICENSE?
OR..